Vegetunks is the Potara Fusion of Vegeta and Future Trunks. The fusion is mostly dominated by Vegeta. Vegetunks was the result of a last-minute ditch attempt to defeat Maceza, and later fought the newly resurrected Broly, and neither proved to be no match for the father-son fusion. Vegetunks has the swordsmanship of Future Trunks and the physical abilities and personality of Vegeta. He remained as Vegetunks for a while, but, like Gokule, eventually separated back into Future Trunks and Vegeta with the help of Old Kai.
Forms and transformations
Super Saiyan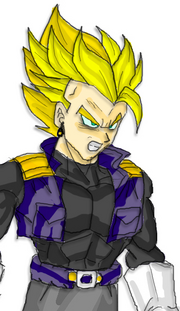 Throughout the whole AF series, Vegetunks has only ever used the base Super Saiyan transformation, and then only against Broly. It's likely that no higher form was needed at the time, as fusions formed by the Potara Earrings are much stronger then normal fighters, and even those formed by the Fusion Dance.
Abilities
Burning Final Flash: A combination of Future Trunks's Burning Attack, and Vegeta's Final Flash. It is charged in a manner like a Final Flash, but fired like a Burning Attack. It was used only once, against Broly, who was launched into the sun by the mighty attack.
Final Burning Blast : a strongest combination of Future Trunks's Burning Attack, and Vegeta's Final Flash. First Vegetunks charged their energy including their lifeforce in both of their hands. then he fired just like a normal Final Flash. it colored like Trunks Burning Attack.Inflicting an extreme damage to the opponent.
Trivia
Despite the fact that Vegetunks could go Super Saiyan, he didn't use this ability during his fight with Maceza.